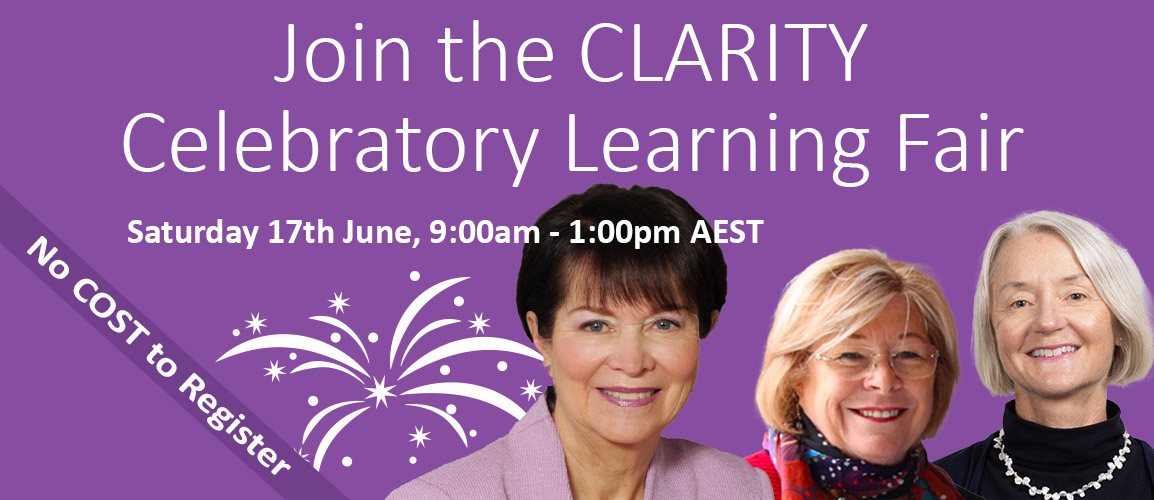 The CLARITY Learning Suite team invite you to join the Celebratory 2023 Learning Fair online on
Saturday 17th June, 9:00am - 1:00pm AEST.
---
Whether you are currently working through the CLARITY Learning Suite or wondering if it's the Professional Learning for you, your school team, or your system, come, listen, watch, and hear from others who have completed CLS.
Learn how it has improved their practice as individuals and school teams. Be part of the developing CLS dialogue.
Hear from CLS Graduates and from Universities offering a Master's credit on completion of the CLS
We encourage each school attending or individual registrants to "Adopt-a-School" and invite others
There is NO COST to register and attend the Learning Fair
CLS Members will receive access to the Learning Fair material for the duration of their CLS Membership
Non-members will receive access to the material until 19 August, 2023
The Learning Fair Program
Time
Presentations and Facilitators
9:00 - 9:30 am

Welcome to/Acknowledgement of Country: Sue Walsh

Introduction of Team: Maggie Ogram

Lyn Sharratt will briefly recap the improvement journey using CLS/key messages

9.30 – 9.40 am

School Presentation # 1 (10 minutes)
Shannon Correll, Principal, St. Brigid's, Kilburn
Catholic Education South Australia

Introduced by: Kim Shean, Manager School and System Improvement Catholic Education South Australia

9:40 – 9:50 am
Q&A

10 mins for questions for the school facilitated by Lyn Sharratt and the CLS Team

9.50 – 10.00 am
Reflector
Sue Walsh
10.00 – 10.10 am
Presentation # 2 (10 minutes)
Mark Brisbane, Pastoral Leader, Tanuit College P-9, Vic

Introduced by: Maggie Ogram

10:10 – 10:20 am
Q&A
10 mins for questions for the school facilitated by Lyn Sharratt and the CLS Team
10.20 – 10.30 am
Reflector
Maggie Ogram
10:30 – 10:40 am
MORNING TEA Break
10.40 – 11:00 am

Reflections from our partners in the Tertiary Sector
Introduced and facilitated by Lyn Sharratt

David Caldwell (UniSA)
Tania Leach (UniSQ)
Paul Kidson (ACU)
Sally Egan (NDU)

11.00 – 11.10 am

Presentation # 3 (10 Minutes)
Alex Montgomery, Principal at Chatswood Primary School, NSW

Introduced by: Stacey Exner, Director Educational Leadership, Gordon Network, NSW

11.10 – 11.20 am
Q&A
10 mins for questions for the school from Lyn Sharratt and the CLS Team
11.20 – 11.30 am
Reflector
Jim Coutts
11.30 – 11.40 am

Presentation # 4 (10 Minutes)
Katelyn Sheather, Learning Enhancement & Inclusion Leader at Wangaratta High School, Vic.

Introduced by: Jody Grimmond, Senior Education Improvement Leader, North Eastern Victoria Region

11.40 – 11.50 am
Q&A
10 mins for questions for the school from Lyn Sharratt and the CLS Team
11.50 – 12.00 pm
Reflector
Lyn Sharratt
12.00 – 12.15 pm
Overall Reflections
Mark Corrigan CESA
12.15 – 12.30 pm
Conclusion
Lyn Sharratt and CLS team
12.30 – 1:00 pm
Open Forum – further conversation if required. Facilitated by Lyn Sharratt and CLS team